Modern Vehicle Infotainment in Birmingham, AL

The most important thing to remember about modern infotainment technology is that it is designed to keep your eyes on the road. Distracted driving became a deadly problem after the advent of the smartphone. Car manufacturers, Android, Apple, and Bluetooth all offer services in new vehicles that rely on voice command rather than sight and touch. They save you the trouble and danger of looking at your phone by relating GPS navigation through your speakers and on your screen as you drive.
Come along with Voyles CDJR as we explore all the exciting options you have with modern vehicle infotainment.

Shop New Vehicles
The Pros and Cons of Wireless vs. Wired Compatibility in Birmingham, AL

New Chrysler, Dodge, Jeep, and Ram vehicles come with Bluetooth or other wireless capability. There are so many vehicles and trims that it's best to consult or ask a Voyles CDJR staff member about the specs to be sure you get everything that's right for you.
Wireless charging is available, but if your car doesn't charge wirelessly, you're better off plugging your phone in so that it charges and transmits data at once.
Accessories like center-console phone stands are available to secure your phone in place while you drive.
Apple Carplay and Android Auto in Birmingham, AL
Both Apple Carplay and Android Auto synchronize your phone with your car's infotainment system. The apps on the newest phones come built-in, but if you have an older one, you might have to download the app.
Touchscreens on new Chrysler, Dodge, Jeep, and Ram vehicles are large, colorful, and very accessible. But if you set up Google Assistant or Siri, all you'll have to do is talk to your car like you would a passenger. You can ask for directions or queue your favorite playlist or digital streaming app. Best of all, you can send a text message to a contact by using the voice-to-text feature, as well as have the car read off the reply, and never have to take your eyes off the road.
Infotainment Makes Navigation a Breeze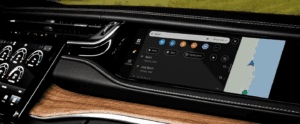 Many new cars come with built-in GPS navigation, especially on upper-level trims. However, some folks prefer to use Google Maps or other services instead. Once you sync your Apple or Android up to the infotainment system, these are all accessible with a simple "Hey, Siri" or "Hey, Google". Then you just ask for directions to wherever you're going. It sure beats wrestling with a map, though the spectacle of refolding one was always a great source of comical confusion.
Experience Modern Infotainment for Yourself in Birmingham, AL
The rapid advance of tech not only makes us more comfortable, but safer. Whether you're picking up a new Jeep Grand Cherokee, Ram 1500, Dodge Charger, Chrysler Pacifica, or any other new vehicle at Voyles CDJR in Birmingham, you'll find a plethora of cool infotainment options. Call us or contact us online to ask any questions about what model has all the right options for you. Then come on in and try it out!

Contact Us