Why Buy a Ram Work Truck in Birmingham, AL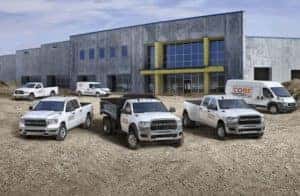 Pickup trucks are excellent choices for drivers who do a lot of towing and hauling and need additional power on the road. But, if you own a small business or need something even more heavy-duty, then consider Ram work trucks and commercial vehicles.
At Ed Voyles CDJR of Birmingham, you'll find an excellent selection of Ram commercial vehicles at your disposal – all at excellent prices. See what kind of work trucks we have available at Voyles CDJR of Birmingham.
Shop Commercial Vehicles
Advantages of Buying a Ram Work Truck
Ram work trucks offer plenty of advantages that you may not find on traditional Ram trucks. Even though Ram trucks like the Ram 3500 are quite powerful, Ram commercial vehicles are built with exceptional durability and capability that can help you successfully get your business off the ground and running. Ram commercial vehicles are often significantly heavier than even the Ram 3500, and other Ram commercial vehicles like the ProMaster City van are built with interior cargo space in mind, so you can haul all of your business equipment without running out of room.
Another perk of Ram commercial vehicles is that they're excellent tax write-offs. This will allow you to save even more money if you own a small business. Experience the benefits that a Ram commercial vehicle can give you without overspending at Voyles CDJR of Birmingham.
Popular Ram Commercial Vehicles at Voyles CDJR of Birmingham
So, the only thing left to decide is which Ram commercial vehicle is the right choice for you! That will depend entirely on what your commercial needs are and what vehicle can best meet those needs. To give you an idea of which available Ram work trucks would be the best choice for you, take a look at the popular Ram commercial vehicles that you'll find at Voyles CDJR of Birmingham.
About the Ram Chassis Cab
While most Ram pickup trucks are built with towing in mind, the Ram chassis cab is built more with hauling in mind. The chassis cab is built with the intention of providing ample space for cargo and heavy-duty items while also being extremely durable.
About the Ram ProMaster Van
Maybe you don't have exceptionally heavy items for your business, but you just have a large number of items. If you need something to carry many items in one vehicle, then the Ram ProMaster van is probably ideal for you.
About the Ram ProMaster City Van
If you need even more space, then consider the Ram ProMaster City van. The ProMaster City is a little bit longer and a little bit taller than the ProMaster van, offering you more space for any additional cargo you need for your business.
Why Buy From Voyles CDJR of Birmingham?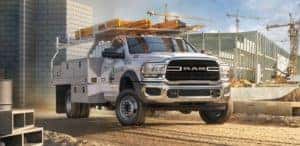 Why buy a Ram work truck from Voyles CDJR of Birmingham? As a family-owned and operated business, we understand what a small business means to the individual owners. That's why we want to help you find the commercial vehicle you need to make your business as successful as possible. Explore our Ram work truck inventory to see which of our vehicles can help you achieve your dreams.
Find Your Ram Work Truck in Birmingham, AL
We understand that investing in your business is a necessity for its success, but we also understand that you want to save where you can. Contact us if you're looking for affordable commercial vehicles that can accelerate your business.
Shop Commercial Vehicles